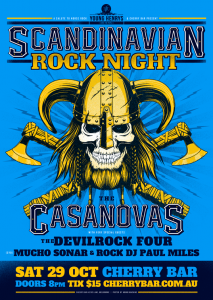 After a two year hiatus we're back!
When a night was designed to pay homage to the amazing rock n roll that has been pouring out of Scandinavia for the last 20 years, we felt obliged to take part. Mainly because we stole all our riffs and moves from bands the likes of Gluecifer, The Hellacopters and The Sewergrooves.
We will be playing our own material but we will be channelling the energy and moves of our musical counterparts from the Northern Hemisphere in a night that is destined to rock fucking hard.
The mighty Casanovas are headlining and Sydney's Mucho Sonar are on first. See you there.